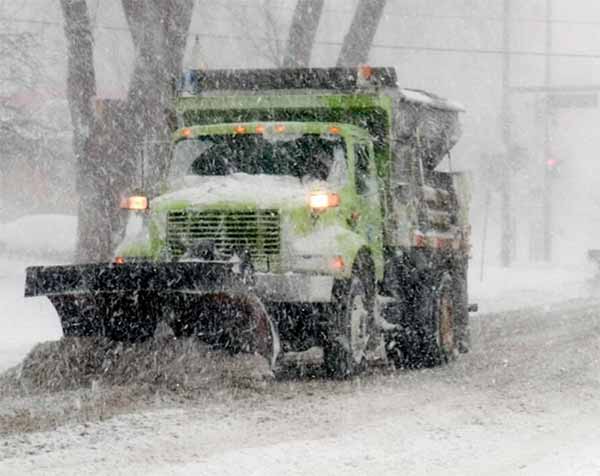 WINTER STORM WARNING: East Idaho in the crosshairs of big multi-day storm
The National Weather Service has escalated its winter storm watches to winter storm warnings in anticipation of a powerful multi-day snowstorm that's forecast to hit East Idaho starting late Tuesday night.

Winter weather advisories have also been issued for East Idaho urging motorists in the region to drive carefully because of the expected hazardous road conditions caused by the storm.

The snow is expected to start falling on East Idaho late Tuesday night and to continue through Friday evening, the weather service said.

The weather service is telling motorists that if they must travel in East Idaho during the storm to make sure they have "an extra flashlight, food and water" in their vehicles "in case of an emergency."

In addition to dumping several inches of snow on much of the region, the storm is forecast to bring winds of up to 35 mph to East Idaho, massively decreasing visibility and causing the "overwhelming drifting of snow," the weather service said. Temporary road closures are possible in East Idaho because of the snowstorm.

The areas forecast to receive the most snow — up to a foot — are Spencer, Arco, Craters of the Moon, Island Park, Ashton and Victor. The weather service said it's even possible that the higher mountains in those areas could receive up to 18 inches of snow depending on the storm's

ferocity.

Up to 10 inches of snow could fall on the Driggs, Tetonia, Emigration Summit, Swan Valley, Palisades and Wayan areas, while up to 5 to 7 inches of snow could fall on the Atomic City, Idaho National Laboratory, Dubois, Mud Lake, St. Anthony, Bone, Henry, Ririe, Arbon, Holbrook, Malad, Downey, Swanlake, McCammon, Arimo, Thatcher, Lava Hot Springs, Montpelier, Georgetown, Soda Springs and Grace areas.

Up to 3 inches of snow could fall on the Preston, Idaho Falls, Ammon, Rigby, Rexburg, Sugar City, Rockland, Bancroft, St. Charles, Paris and Inkom areas.

The Pocatello, Chubbuck, Malta, Burley, Rupert, Raft River, American Falls, Aberdeen, Fort Hall, Blackfoot, Firth and Shelley areas are forecast to receive the least amount of snow — an inch at the most.

Rain will likely be mixed in with the snow at times during the storm, especially in East Idaho's lower elevations.

Elsewhere in the state, winter storm warnings and winter weather advisories calling for a foot or more of snow have been issued for the central Idaho mountains including the Stanley, Hailey, Sun Valley, Ketchum and Mackay areas.

Winter storm warnings and winter weather advisories calling for snow are also in effect in parts of southwest and northern Idaho as well as in Washington, Oregon and Nevada.

Hazardous weather alerts regarding the storm have been issued in Utah and Wyoming.